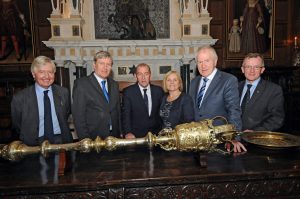 At Crosby Hall ~ 13 November, 2015
This weekend marks the 800th anniversary of the Lord Mayor's parade in the City of London which is expected to attract over 500,000 spectators and millions of television viewers.
For the first time, Ireland will be represented in the parade which will include the Mace from the 1765 Irish House of Commons and the Lord Mayor of Dublin's ceremonial coach.
Christopher Moran, Chairman of Co-operation Ireland, who has played a significant role in securing the inclusion of the Mace and Coach in the parade, hosted a reception for Tourism Ireland at his home, Crosby Hall, in London (12th November).
The 295 ozs and 58 inches-long Mace is inset with the arms of George III and its sides are decorated with the emblems of Ireland, England, Scotland and France.  After the Act of Union, the Mace was committed to the safe keeping of Speaker Foster by the Irish Parliament.  It was purchased from his descendants and offered for sale at Christie's in June 1937, when the Bank of Ireland purchased it for £3,100.