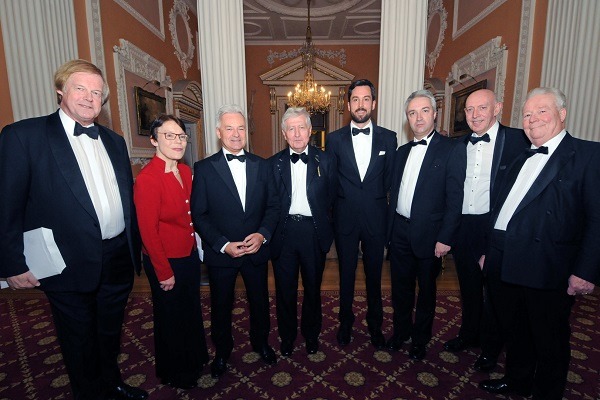 Dr. Christopher Moran delivered a warm and personal toast "to Anglo-Irish relations" at the 2019 Co-operation Ireland annual City of London dinner, held in London's historic Mansion House.
The toast concluded the evening's programme, which heard the intelligent, insightful speeches of the guests of honor: Irish Minister Eoghan Murphy and The Rt Hon Sir Alan Duncan, KCMG MP, Minister of State for Europe and the Americas. Both speakers championed the importance of strong ties between the United Kingdom and island of Ireland, in the past and in the future.
The dinner was opened with generous remarks by former Lord Mayor, Sir David Hugh Wootton, 684th Lord Mayor of the City of London.
There was a ringing air of shared commitment and good will as the dinner was attended by government representatives and private sector individuals across fields of trade, industry, law, heritage, news media, and diplomacy. The annual Co-operation Ireland City Dinner, organized by Chief Executive of Co-operation Ireland, Mr. Peter Sheridan, OBE, included a pre-dinner reception followed by dinner and programme.
Both Irish Minister Eoghan Murphy and Sir Alan Duncan, MP ~ along with the hall of Mansion House guests ~ stood and joined in Dr. Moran's toast to a positive future and friendship for both countries.
/ Full gallery of photos can be viewed at: www.cooperationireland.org