by Dr. Simon Thurley, Director of English Heritage, in Country Life Magazine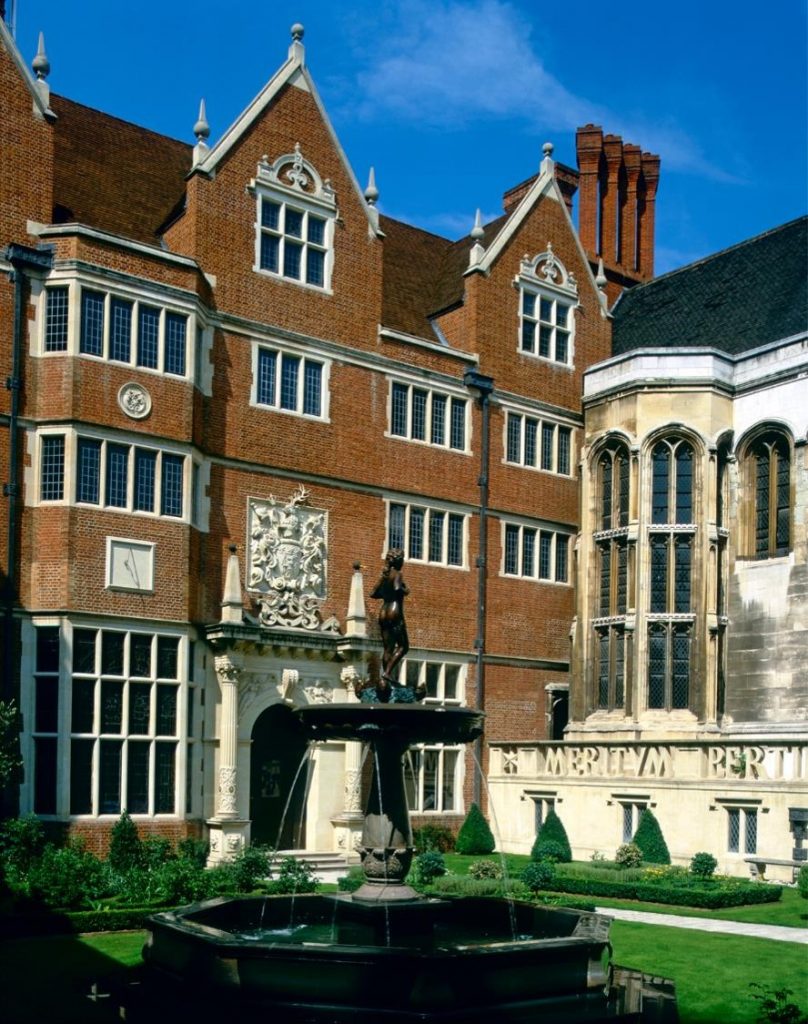 Crosby Hall
---
Crosby Hall's story is extraordinary.
The most important surviving secular domestic Medieval building in London, Sir John Crosby's great hall has on several occasions been snatched from the brink of demolition. After a 400-year gap, it is being incorporated back into a private house.
Sir John Crosby was the son of a wealthy fishmonger who became a freeman of the Grocer's Company in 1452-54. He traded in luxury textiles, especially silk, from his warehouse just off Poultry. But Crosby was not merely a super-rich merchant; he was a diplomat, politician, soldier and a fervent Yorkist who was knighted by Edward IV in 1471.
This exceptional man built an exceptional house in Bishopsgate between 1466 and 1475. John Stowe called it 'very large and beautiful' and proclaimed it 'the highest at that time in London'. Throughout the 16th century it was owned and occupied by significant statesmen, merchants and foreign dignitaries, most famously Sir Thomas More, but its fortunes in the later 17th and 18th century were not so good. By the 19th century it was a historic anomaly in the commercial heart of the City. Yet it was also recognised by antiquarians and architects as one of the most precious medieval survivals in the square mile.
It was this acknowledgement and affection that led, eventually, to its relocation to Cheyne Walk opposite Battersea Bridge in 1910. Crosby Hall's arrival in Chelsea was met with a series of schemes to set it in some sort of context, none of which was realised. Eventually it was acquired on a long lease by the British Federation of University Women, which employed W. H. Godfrey to build a tall Arts and Crafts residential block at right angles to the great hall in 1925-27.
In 1988, after the abolition of the Greater London Council (the freeholders of the hall), Christopher Moran purchased it as his London house. Mr Moran had been interested in the hall since the 1970s. After eight years of planning and design, work began to create a suitable context for the great hall and transform the forlorn piece of history into a private home to house Mr Moran's important collection of Tudor pictures and furniture.
There  was no question of rebuilding Sir John's House exactly as it had been. Apart from a lack of evidence, the hall in its original location was compromised by an awkward site, very different from that in Chelsea. The Federation's residential block was listed Grade II and so could not easily be demolished.. The plan was thus to create a new house that would give the illusion of having been built over a period of 150 years. The fixed points were the 15th-century great hall and Godfrey's Arts and Crafts residential wing, which has been adapted to appear Jacobean.
It was decided to create a setting for the great hall that could have really existed. Modern building techniques were to be used, but every detail, form and feature were to be based on an identifiable precedent from the 16th century. In practice, this meant that each range was based on a single building, and its detailing was taken either from that or from its contemporaries. Another principle was that the decorative devices and emblems have also followed Tudor practice. Architectural display in the 16th century was dominated by heraldic motifs and badges; faithful to that convention, Mr Moran had the College of Arms devise him a coat of arms for himself that could be adapted to adorn the building.
The entrance range is based on Cardinal Wolsey's base court at Hampton Court Palace of the 1520s. Its loggia is based on those at Horton Court, Gloucestershire, and a later house, Dingley Hall, Northampshire; eventually, it will incorporate roundels in the manner of Giovanni da Maiano at Hampton Court. The gateway onto Cheyne Walk draws on two more houses: the oriel window at Hengrave Hall and the pillars at the front from Henry VIII's lost palace at Rochester. The intention of this range is to capture the heraldic flamboyance of Henry VIII's reign, and the charming mix of late-Gothic and Renaissance details that characterises the first half of the 16th century.
The dining hall range on the east, is closely modelled on that of Kirby Hall, Northamptonshire. It is rendered entirely in stone, and the frieze contains Mr Moran's heraldic badges of sea stags and stars. It takes the story of English architecture in the 16th century up to the 1570s and expresses the Mannerism that characterised many houses belonging to Elizabethan courtiers.
The north range is the result of a subtle remodelling of Godfrey's Arts and Crafts wing to create an elevation characteristic of about 1600. The lower two floors were made into one to create a double-height entrance hall and tall gables characteristic of, for example, Chastleton, Oxfordshire. The great doorway is modelled closely on one at Hatfield House. The virtuoso stonework, including the coat of arms, strapwork cresting and winged victories, carved in 16th-century style, are by Dick Reid of York. The windows of this wing, and the dining hall next door, are slowly being filled with stained glass based on the engravings of the Flemish designer Hans Vredeman De Vries.
The external elevation of the hall itself caused some debate. The hall was refaced in Portland stone when Crosby Hall was moved to its Chelsea site and therefore has lost much of its external 15th-century character. As a consequence it was decided to adorn the 1920s terrace on the hall's west side with a Jacobean balustrade bearing Mr Moran's motto, similar to that at Rushden Hall in Northamptonshire.
This newly created courtyard succeeds in telling the story of architecture in England from the 1560s to about 1600. A simple pirouette allows visitors to take in the best that Tudor architecture, design and craftsmanship can inspire.
But that is not all. The architectural setting is now the container for a remarkable Tudor garden. The layout was designed by the Marchioness of Salisbury, based on her own experiences at Hatfield and following in detail Tudor designs published in the 1570s. The planting, too, has been carefully thought out and uses varieties common in Tudor England.
In the centre of the garden is Mr Moran's piece de résistance. Aware that a fountain was not only an essential centrepiece for the inner courtyard of a Tudor palace but that Tudor gardens were often centred on them, he commissioned a great fountain to the goddess Diana. It is a close copy of the fountain installed in the gardens of Nonsuch Palace by John Lord Lumley between 1579 and 1591 (and demolished in the 1680s). Lumley had actually been to Italy, a rare thing for an Elizabethan nobleman, and his garden designs were heavily influenced by what he had seen on his travels. The fountain is made from English Derbyshire limestones and Cumberland slate, and is surmounted by the sculptor Neil Simmon's rendition of Diana.
With the courtyard complete, the project to create a glorious context for the great hall moves to the completion of the interiors: a vast dining room, and entrance hall, chapel and (of course) a long gallery. If Mr Moran can achieve the same quality there as he has done in the courtyard, he will have created a fitting monument not only to compliment Sir John Crosby's great hall but also to the current state of English craftsmanship.
/ This article was written by Dr. Simon Thurley, Director of English Heritage, and originally published in Country Life Magazine in 2003.