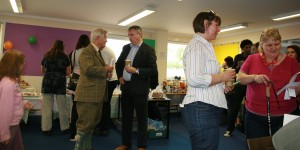 Cabrach Community Enterprise has been congratulated by Mr. Christopher Moran for their work in organising the Cabrach Open Day.
Family fun, the best of local fayre, and an innovative dark sky link-up across the globe were just some of the activities at the event that attracted over 400 people from the local community.
Mr. Moran, whose Cabrach & Glenfiddich Estate forms part of the Cabrach landscape, said the success was a testament to the community spirit and sense of identity that remained strong amongst the people Dufftown and the Cabrach.
He said, "I was very pleased to be able to support the Family Day. The people of the Cabrach share a distinct sense of place, and I was glad to help the whole community celebrate in this informal way.
Mr. Moran sponsored the catering at the event with locals tempted by the aroma of Scottish venison prepared by chefs on an open-air barbeque.
"Having been visiting Glenfiddich & the Cabrach for over twenty years both the people and the area have made a particular impact upon me. It is recognised the community has endured particular economic and demographic decline.
"The challenge for all us is to build a sustainable future for the Cabrach through sympathetic and specialised economic development, providing the jobs and prosperity that the local community here deserve.
"I congratulate all those involved in organising the event and hope to see many more family days in the years ahead."