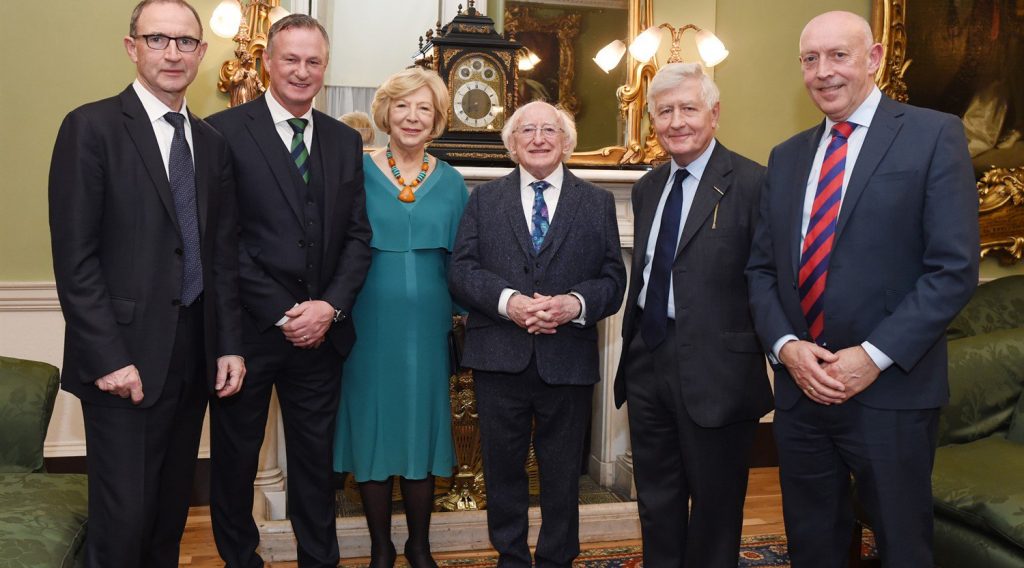 "The great work towards peace and reconciliation undertaken by Co-operation Ireland, by the Irish and British Government, and by people of goodwill across our island, will and must continue."
– President of Ireland Michael D. Higgins
President of Ireland Michael D. Higgins has praised the work of Co-operation Ireland, chaired by Dr. Christopher Moran, at a Gala Dinner in Dublin attended by Republic of Ireland Manager Martin O'Neill and Northern Ireland Manager Michael O'Neill ahead of an international friendly between both teams played at the Aviva Stadium on Thursday, November 15, 2018.
The dinner was held in aid of Co-operation Ireland at Dublin's Mansion House. Co-operation Ireland was the official charity sponsor of the game.
President Higgins, who along with Her Majesty the Queen is joint patron of Co-operation Ireland, spoke of how the peace-building work of the charity was as important today as when it was formed in 1979 as Co-operation North.
President Higgins likewise praised the efforts of both the Football Association of Ireland and Irish Football Association for their work in the community and the part they have played in fostering relationships.
President Michael D. Higgins: 
"Throughout the Brexit talks the core aim of the Government – an aim that I share – has been to preserve the provisions and principles of the Good Friday Agreement. This has not been an easy or straightforward task given the complexity of the Brexit negotiations, but it is one that I believe the majority of our people, North and South, whatever their political tradition or affiliation, share and support.   

"Yet, irrespective of the final wording of the Withdrawal Agreement, or the consequences of the diplomatic manoeuvring now underway, it will be more essential than ever to work to maintain the deep friendships which have been developed on our island since the Peace Process began. The great work towards peace and reconciliation undertaken by Co-operation Ireland, by the Irish and British Government, and by people of goodwill across our island, will and must continue."
"A new generation has grown up in an atmosphere in which the old enmities have gradually faded, thanks to the patience and perseverance of many activists and programmes.
"We are in such a better place when rivalries are temporary and draw their energies from skills rather than any larger recourse to the well of old enmities."
Co-operation Ireland CEO Peter Sheridan said: "Next year we celebrate our 40th anniversary and our work to build relationships between communities in Northern Ireland, between Dublin and Belfast and between London and Dublin has never been more important.
"On behalf of our board I would like to thank President Higgins for continuing to support our work and to Michael and Martin, who have been long standing friends of the charity."
Learn more about Co-operation Ireland, here.
/ Official press release of Co-operation Ireland, November 2018